Of the millions (billions) of things people searched for in 2022, one category stands out that deserves our attention… How to Help.
So many people in the United States were actively searching for how to help those in need that it became a trending topic. That's great. Period full stop.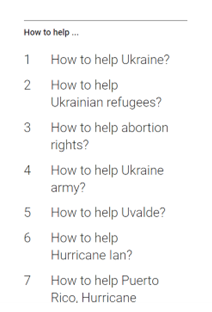 In fact, this is a trend we've seen grow and evolve since 2020. The first year of the pandemic, trending searches focused on "how to donate" and "how to help." Moving into 2021 searches evolved into "how to help others" and now in 2022 we've seen that shift into more broad queries on "how to help..."

As social impact marketers, we represent organizations that help those in need every single day. When millions of people are searching for how to help, are we effectively connecting them with our organizations?

Note that the trending topic for 2022 is a more general "how to help." This is a great opportunity to engage audiences that are not already supporting a cause financially. Their interest in helping may indicate they have higher propensity to be a financial supporter in the future. With declining donor counts across the charitable giving industry, finding and nurturing new audiences is more important than ever.

Google knows all and Google is telling us there are indeed new audiences out there, ready to be nurtured and cultivated into the next generation of supporters.

Knowing this… where do we start? How do we act on this information? How can we effectively engage with these searchers?
Think of the many ways someone can help – volunteer, advocate, in-kind supporter, event participant, planned giving donor, financial supporter…the list goes on. Focus on connecting people to your organization and engaging them with your mission.


Drive searchers to pages on your website that more broadly answer the "how to help" question. Then, strategically move them down the funnel for an eventual financial donation. Look closely at your website and make sure your content aligns with what people are searching for. Speak to them where they are now.


Optimize your paid search program to effectively reach these searchers, design landing pages to warm these audiences up, and then map out retargeting plans, creative messages, and journeys to provide the greatest chance of converting these searchers not only into financial donors but engaged multi-year supporters.