A recent KPMG study found that a whopping 86% of consumers have a growing concern about the privacy of the data collected by organizations. Four in 10 worry about it being used ethically. What does this tell us? As nonprofit professionals, we need to align with the current consumer data privacy concerns that are emerging.

Before my time in the nonprofit space, I worked with large commercial B2C brands facing the challenge of housing and leveraging valuable end-user data. To be the trusted advisor my clients needed, I would regularly attend conferences to understand the challenges that marketers and their partners faced. Dreamforce, SXSW, Digital Summit. When my career focus shifted to serving nonprofit organizations, I found that by continuing to observe and learn from consumer marketers, I was able to bring novel thinking and alternative perspectives to benefit my new client partnerships.
Why? Because sometimes we in the nonprofit sector tend to think of donors within the bubble of the nonprofit sector. We forget that donors are consumers evaluating causes like other important purchases at the end of the day. Donating to charity is a spending decision that comes with data sharing risks that they are increasingly weighing.
Privacy regulations will continue to constrain what, how, and why all brands collect consumer data, and Big Tech will continue to champion privacy. So here are some steps — gleaned from leading consumer marketers — that fundraisers can take now to collect strategic donor data while protecting it and addressing supporters' privacy anxieties.


How to avoid donors' privacy concerns through social listening



While the inevitable demise of cookies has been postponed until 2023, strategic marketers are continuing to look for intelligent ways to generate first-party data. Polls and surveys are a low-cost way to have donors opt in to share what they think.

Marketers can often feel we have to spend media dollars to validate strategy at all costs. But a case study presented at a recent conference I attended provided an easy, low-cost alternative to expensive and time-intensive testing options.

Instead of A/B testing endless iterations of content types, why not just ask? A simple Facebook poll to your fans asking what they want to see — and even better — how often, can kick-start a campaign. While validating the results by monitoring the data on the back end is recommended, we as marketers should not shy away from having honest, transparent conversations with our audience. It's why they call them social platforms.

Not only will the results power better engagement, but your audience will appreciate the engagement. Studies show that just asking for the opinions of your audience increases their affinity for your brand. Show you care, and your potential donors will respond.

The bottom line for nonprofit marketers: Invite website visitors or social platform engagers to voluntarily share their opinions on various brand-centered and cause-relevant topics — from creative to messaging to attitudes and motivations. Reward participation (and data sharing) with thankful messaging that explains the good donors delivered by improving the cause's reach through research.

How to prepare for omnichannel attribution in Google Analytics 4
To maximize the value of our first-party data, we need to continue to understand user behavior across all owned properties. This becomes particularly important as consumers (our donors!) accelerate omnichannel, cross-device behaviors.

Google Analytics has been an industry standard for digital marketing analytics for years. Google's latest analytics platform release, Google Analytics 4 (GA4), was created to attribute actions to users on all their devices more concisely. Since Google's current iteration, Universal Analytics (UA), is not yet obsolete, marketers might be tempted to delay thinking about GA4. But many consumer marketers are making moves now to transition to GA4 without losing historical data for reporting and comparison.

The bottom line for nonprofit marketers: Add a GA4 tracking code to your platforms now. This way, you can start to collect data in parallel with your UA data. Due to some shifting settings, the data will not be 100% consistent between each platform, so having both run for a quarter or longer will help reset benchmarks. This will allow for a mostly stress-free final transition once Google sunsets UA in a year or so.
While we're on the subject of Google Analytics, make sure to check out THD's new Digital Marketing Suite. We combine your Google Analytics property data with other data sources to bring you dynamic views so you can find impactful strategic insights with minimal effort.

What to do about the latest Apple privacy updates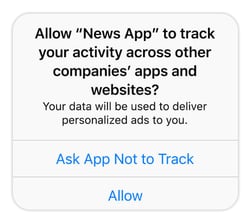 Arguably the largest adjustments consumer marketers are dealing with this year are the new iOS 15 Apple privacy updates. If you have an iPhone and the most current operating system, you may have seen this pop-up.

This is part of Apple's new efforts to provide greater privacy controls to its users. Evidence suggests that consumers see it as a positive, as they opt out of being tracked at a rate of approximately 87% worldwide and 94% in the U.S.
What are the consequences for nonprofit marketers? Relying on third-party data from Facebook and other publishers is diminished for iPhone users who choose to stop being tracked.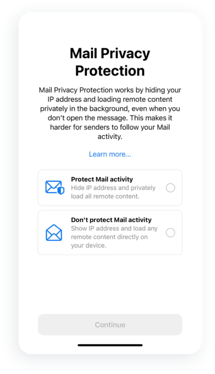 And the iOS changes don't stop there. iOS 15 gives users even more email privacy options. This further affects the depth of marketers' data, as it will inflate email open rates for Apple mail users. While email platforms and publishers are working on more suitable long-term solutions, fundraisers should start executing new best practices to bridge the gap.
Just as many in the B2C world have shifted away from open rates as the most critical KPI, we at THD have shifted to engagement rate as a better indicator of marketing and business impact.

But fundraisers and B2C marketers alike still use open rates among a list of KPIs to manage an email program. So it's critical to make adjustments to ensure that you don't lose insight into this metric during the iOS 15 rollout.

The bottom line for nonprofit marketers: Isolate email data to separate non-Apple Mail iOS 15 users from the rest of your email file and review open rates for the non-Apple users. While the non-Apple users could be only 50%-60% of your audience, the data could be extrapolated to the complete file, giving you a solid directional idea of performance for the Apple users as well.
Digital consumer marketing trends are often digital donor marketing trends
THD is constantly working with our client partners to adapt to the ever-changing, increasingly digitized, data privacy-constrained fundraising landscape. Our marketing, digital, and data experts continually track trends, pick up the buzz in the consumer marketing world, and anticipate the impact on donor outreach. Connect with us now to ensure you're infusing your strategic decisions with the latest best practices in digital marketing and fundraising.