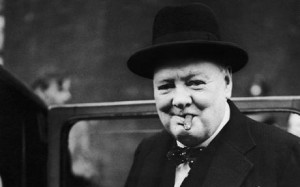 "It's a riddle, wrapped in a mystery, inside an enigma."
Ok, he didn't say that about social media, but… he said it.
Social has become second nature to all of us. As much a part of our daily lives as getting our morning coffee. In fact, ask yourself, what comes first in the morning? Getting that coffee or checking your feeds?
So does anyone else see the irony in how much talking we do in the non profit world about how to use social?
The bad news? Ol' Winny was right. Social isn't easy, it takes resources, careful thought and planning.
The good news? I'm not going to give you yet another case study in all the things we've done right in social under the headline of "Look how easy it is…"
Instead, I'd like to share a couple reasonably simple, useful tools that you can take advantage of today. Tools that can in fact make things just a little bit easier for you.
Let's start with Facebook
In late August Facebook introduced a new "Donate Now" call to action option for ads and pages. All NPOs should have this CTA appearing on their cover photo but that's really just the first step. More significantly you'll be able to test multiple CTAs including "Donate Now." With this extra flexibility you'll be able to design your posts to align with the CTA and hopefully improve conversions. You'll no longer be forced to use "Learn More" as the CTA in an appeal post.
Facebook has also begun testing lead gen ads that will allow people to subscribe in stream – without needing to click through to your site. Any time you are trying to acquire new leads, simplicity and minimizing the number of clicks is key. So between Facebook's ability to target and this kind of seamless experience, it's hard not to be excited about this.
Finally, while it's not necessarily new, it's worth spending some time getting familiar with Facebook custom audiences. We all know that changes in Facebook's algorithm have made it hard to rely on organic reach so combining some tried and true segmentation strategy with a small investment tailoring posts to your constituents could go a long way.
#WhatsNewWithTwitter
Twitter's lead gen cards aren't new but may be new to you as they have flown a bit under the radar. Like those being tested by Facebook, Twitter offers these custom tweets that allow you to collect email addresses within the tweet. Twitter offers targeting and the ability to promote to constituent lookalike audiences like Facebook as well. On a cost per conversion basis it's worth testing as part of your acquisition strategy.
Just a couple weeks ago Twitter announced it had lifted the restriction on characters in direct messages. This won't have any impact on the way you currently post to Twitter but it could have a profound impact on how you engage key influencers. Instead of a short note thanking someone for their support and asking for more, you now have the ability to send a more personalized note and make an impact at first contact. A relatively small functional change in the grand scheme of things but a large opportunity for you.
#Donate
Finally, remember when mobile giving was supposed to change the way people give? Ultimately it was done in by limits on gift sizes and the carriers taking too large a share of each gift. It seems, however, that a new startup might have developed a platform that could be what text2give aspired to be.
GoodWorld has a program that makes it fairly simple to give to a participating charity using just a #. How does it work? The first (and probably hardest) step is that donors will have to sign up and register a credit card with GoodWorld. If someone attempts #donate and they aren't registered, GoodWorld will send them a link.
Once registered, all they need to do is go to your Facebook or Twitter page, enter #donate followed by the amount they want to give. Simple as that.
Yes, there are some fees per transaction (4.8% to GoodWorld and 2.2% to the donor's credit card company) but they aren't excessive. As an NPO, to participate you can register at http://goodworld.me.
Since I started with a quote from Sir Winston, I thought I'd close with one that's apropos as well:
"Never, never, never give up."
Keep testing, keep learning and find what works for YOU. Social is not a one size fits all platform.
BTW, our blog is new so follow us for more fundraising news, insights and advice from deceased world leaders.